WELCOME TO BARN AND STABLE
Proudly handcrafting regimental RCMP trunks and urns since 2007
As a tribute to the Royal Canadian Mounted Police and our Canadian Armed Forces, Barn and Stable Regimental Trunks & Urns is proud to offer handcrafted, elegantly finished, and fully licensed products, including:
The "Steamer" Style Regimental Trunk for the RCMP, CAF and other agencies, including the Vancouver Police Department, Ontario Provincial Police, etc.

RCMP and CAF Regimental Memorial Urns

Customized Memorial Urns, which include combinations of agencies and/or departments outside of the RCMP and CAF
Our products are uniquely designed and hand built in our workshop, located in Surrey, BC. We pride ourselves on quality and have ensured each of our products is handled with care from start to finish. We hope you enjoy browsing our site and would love to hear from you.
REGIMENTAL TRUNKS
The regimental trunk is uniquely designed and hand crafted to reflect the classic RCMP steamer trunk. Each trunk is carefully constructed with high quality hardwood and is elegantly finished with the appropriate RCMP/CAF/VPD/OPP crest, leather handles, unique serial number, and a removable tray.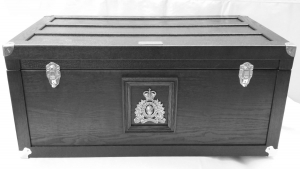 LEARN MORE...
MEMORIAL URNS
Handmade and crafted from solid oak or cherry, these urns bear the RCMP or CAF crest and a personalized nameplate.They are fully compatible with the RCMP columbariums in "Depot" Division as well as at Beechwood Cemetery, the Ottawa-based National Military/Memorial Cemetery of the Canadian Forces and the RCMP.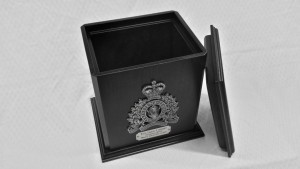 LEARN MORE...
Admin
I hope you and your family were able to actually "celebrate" this year's Christmas, even though you likely spent it quite differently than in years past.  I'm optimistic the "New Normal" that will follow this pandemic will be favourable with no serious glitches. The worst part of this global business slowdown for my company is that material prices have spiked and some of the items that I have shipped from various parts of the US [...]
Admin
Hello from the Barn and Stable workshop. I hope you are doing well, staying healthy, and managing through these uncertain times. I wanted to provide a quick update on the current trunk 'wait list'. I am happy to announce that I am approximately a year ahead of schedule and have been contacting customers who placed their names on the wait list up until April 2020. This is in part due to an increase in time working [...]
Admin
Hello from Barn and Stable Regimental Trunks & Urns.  I hope you and your family are coping with this awful health crisis and are maintaining the appropriate safety measures to reduce the spread of this nasty virus and staying healthy. I wanted to update all of my customers with news on the "Wait List" and my current production levels.  I am fortunate in one way, in that I am able to fill my days making [...]
up to #560
Note: If your customer number is lower than what's been posted above, please email me as soon as possible. I am now contacting customers who placed orders in April 2020. It may be possible that my confirmation emails may have gone to inactive email addresses or to your junk mail folder. If you have placed yourself on the wait list after April 2020, you may receive an email from me soon! Thanks.
WHAT OUR CUSTOMERS ARE SAYING
"Let me start off by thanking you for crafting such a beautiful piece of art. My parents recently purchased a Classic Regimental Trunk for my 30th birthday and I must tell you that it is one of the most amazing things I've ever received. As I'm sure my mom already indicated, this piece is of significant meaning to me as I was a good friend of an RCMP member who lost his life. One of my memories was placing some special and sentimental pieces in their trunk which went to his family. I remember looking at it and admiring its perfection. I managed to organize all of my kit and collectibles into this trunk which complements our furniture nicely."
"Our urn arrived this morning and was in perfect condition. It was well packed and made it to us safely. I was so impressed with the finished product, it is lovely, the wood is finished beautifully and the crests and inscriptions look amazing. I cannot thank you enough for making this beautiful urn for us. I feel this urn is a very special place for our loved one's ashes. I believe if he were here to see the urn, he would be proud to know that we tried to have a very special urn made just for him. He specifically asked us to make sure his ashes were in a wooden box with his family around him. I feel my family and I have worked with you to make this possible and to honour his wishes. Many thanks Russ. You can be proud of the wonderful work you did… It is especially meaningful to us. Take care and keep up the good work you are doing."
"The trunk is absolutely stunning! You are very talented at what you do. My husband (who never has an opinion) also thought it was amazing. He was completely surprised by it! Everybody that has seen it has commented how gorgeous it is. I know a couple of people have contacted you to be put on a list! I also know a few more that plan on contacting you in the near future :). It is something that will be cherished in our home for years and will be passed on to one of our children."
We'd love to hear from you!