ABOUT THE BUILDER
Russ Lefler (Reg. #31455) — Owner and Operator
Russ' interest in woodworking began shortly after he retired from the RCMP after serving 25 years. As he settled into his second career, he ventured into custom woodworking as a hobby and started building various items for his family and friends. Over the years, Russ spent many hours sharpening his skills, researching wood crafting techniques, creating various artifacts, and of course, acquiring a handsome collection of tools along the way. Russ was always a believer of the old adage "He who dies with the most tools – Wins!"
Since acquiring Barn and Stable Regimental Trunks & Urns in 2007, Russ has been dedicated to building a brand of trust, quality, and service. His trunks and urns have been shipped to families all across the country, not only for RCMP, but his client-base now includes the Canadian Armed Forces and other policing agencies.
Now fully retired, Russ couldn't be happier to be "making sawdust" in his workshop full time (and perhaps sneaking in a few golf games on the side).
THE HISTORY BEHIND BARN AND STABLE
Russ' venture into building trunks and urns started many years ago when a couple of friends/co-workers who owned a company called Barn and Stable Regimental Trunks asked if he would be interested in purchasing a trunk they had built. As a small start-up business, their initial product was a locally made "treasure chest" style wooden trunk which would be marketed to RCMP members.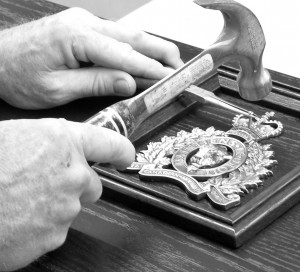 When Russ was approached by the initial owners, he proposed an opportunity to present them with a new trunk design. This is where Russ built his first wooden trunk, very similar to the ones sold today! The difference in design, was a new tray that would accommodate a member's kit and collectibles… a design that resembled the original steamer style "blue trunks" that most members purchased upon leaving the Depot Division (circa 1970's and 1980's). In creating the new style trunk, Russ' goal was to maintain the classic "blue trunk look and feel" by incorporating as many embellishments as he could; such as the brass corners, locking catches, and leather handles. The result was a beautifully finished, solid oak trunk that was constructed using custom milled and hand sanded pieces… a truly unique product that Russ still proudly displays in his own home.
In addition to the trunks, the original business owners were interested in selling solid wooden urns and had asked Russ to design and supply the new product. From here on, the Regimental Memorial Urn was designed as an offering to RCMP members.
In 2007, Russ was given the opportunity to solely purchase Barn and Stable Regimental Trunks, and as a result of acquiring the business, Russ changed the name to Barn and Stable Regimental Trunks & Urns. In keeping with the original business plan, Russ has ensured that any previous relationships made by the original business owners were honoured. As such, Barn and Stable continues to work with Beechwood Cemetery, the National Cemetery in Ottawa.
Over the years, the business has flourished. Memorial urns are steadily produced for RCMP members and Canadian Armed Forces personnel, and the demand for regimental trunks has grown to the point that Russ now keeps an extensive waiting list of members and their families hoping to purchase one.
GIVING BACK
Barn and Stable Regimental Trunks & Urns is registered with the RCMP Foundation. A portion of the sales of each licensed item helps fund programs that give back to Canadian communities. The royalties are redirected to support RCMP community policing initiatives all across Canada. Please visit the RCMP Foundation's website at http://www.rcmp-f.ca/ for further information on this worthwhile program and scroll through the various informative links.